Enamelling is when special powdered glass is fused to a metal base by firing and can be used to create a wide range of different effects - using vibrant colours we will explore simple and achievable stencil and sgraffito designs working with copper and opaque vitreous enamels. This class will prepare you to experiment further and develop your own home projects.
In this one-day workshop, you'll create your own torch-fired beautiful vitreous enamel pendants and or earrings.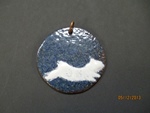 All materials included in course fee. Please bring pen and paper and wear clothing and footwear suitable for a workshop environment.
By the end of the course, you'll be able to:
• Complete two vitreous enamel designs using copper and opaque colours
• Identify various jewellery enamelling techniques
• Demonstrate simple jewellery making skills to prepare metals for successful firing
• Recognise and apply safety precautions required in the workshop
Please note: you cannot be late for this one-day course, you must be there from the start of the course when health and safety matters are covered.
Note: Courses need a minimum number to go ahead so if we don't have enough enrolments a few days before the start date, we have to cancel. We'll let you know by email so please check yours regularly. If you need to cancel your registration, here are our terms and conditions: "What You Need to Know".