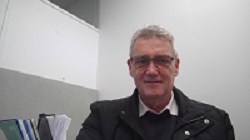 Tim has been working with leather since 1974, when he made his first leather belt.
Initially teaching himself, he gradually moved on to more complex projects including, bags, wall hangings, decorative projects, motor cycle accessories, chessboards, and furniture.
He currently works from his studio at Nautilus Creative Space in Owhiro Bay, Wellington. Tim's work has appeared in many art exhibitions within New Zealand, and he is a member of the Association of New Zealand Leather Artisans. His work has been established with the domestic and export markets.
As an experienced tutor, having tutored at Southland and Nelson Bays Polytechnics, he is keen to share his knowledge with aspirants of leathercraft, both young and old. He combines a friendly approach with an in-depth knowledge of, and passion for leather.